New York based Composer and Bassist ARTUR KELL is SSB's next Artist-in-Residence in New Mexico. Kell will be performing with artist Quintan Ana Wikswo in Madrid, NM and in Santa Fe, NM during his stay. Stay tuned for more details about the performances.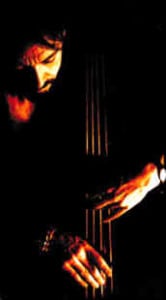 ABOUT ARTHUR KELL
Arthur Kell (bassist, composer) is one of the most original voices on today's New York jazz scene. For the past twenty-five years, he has played with an amazing cross-section of the most influential contemporary jazz musicians in New York City and around the world.
In the 1980's Arthur played extensively with artists such as Thomas Chapin (Spirits Rebellious Quintet), Bobbie Previte, Shelley Hirsch and Fred Ho, and also played dates with Billy Bang, Marc Ribot and Mark Feldman.
This wide experience and versatility are reflected in Arthur's playing and writing. His compositions and his improvisations draw on many diverse influences, which makes for very entertaining and compelling listening. Arthur's ability to fit seamlessly into any musical context has made him much in demand as a sideman.
Recently, he has been working with the likes of Sam Newsome, Armen Donelian, Dave Berkman, Cliff Korman, Guillermo Klein, Christian Howes, John Stetch, Bruce Barth and the Finnish singer, Sanni Orasmaa. He has been paired on recordings with Bernard Purdie, Matt Wilson and Anton Fier.