At first blush, Lydia Lunch and Umar Bin Hassan make for strange bedfellows. She's the matriarch of the short-lived no wave scene, having scandalized and negated punk-era Manhattan with the jarring dissonance and minimalist caterwaul of her late-'70s band Teenage Jesus and the Jerks. In a few eventful years, she evolved from an adolescent malcontent into a professional provocateur, establishing herself as an acid-tongued spoken-word diva, a postfeminist cultural critic, and the antiheroine of numerous underground films. Throughout her career, she's ceaselessly collaborated with a who's who of left-field rock heavyweights ranging from Sonic Youth and the Birthday Party to the Mars Volta's Omar Rodriguez Lopez and the Flying Luttenbachers' Weasel Walter. Meanwhile, in 1969, Umar Bin Hassan escaped from the confines of Akron, Ohio, and joined the Last Poets, an indignant but keenly intelligent ensemble that merged black nationalism, African rhythms, jazz swagger, and the kind of incendiary verbiage that would spawn a galaxy's worth of hip-hop. "Niggers Are Scared of Revolution," a key track from their debut album, handily summarized these modern griots' raison d'être. Subsequent decades yielded solo material plus work with Public Enemy, Bill Laswell, and the Wu-Tang Clan's Cappadonna.
Upon closer scrutiny, the artistic union of Lunch and Bin Hassan is perfectly logical. At its spiritual center is New York, that infuriating yet electrifying metropolis where these restless firebrands honed their respective snarls. Although neither participant still resides locally, their alliance is deeply rooted in the city's tradition of anarchic genre-busting—a continuum that includes South Bronx DJ Afrika Bambaataa embracing the Teutonic robotics of Kraftwerk and avant-leaning downtowner James Chance grafting white noise onto an ass-shaking, ebony thump. That pre-gentrified, non-balkanized, freewheeling mentality persists in Lunch and Bin Hassan's recently unveiled project, No Wave Out, which features a varied and accomplished cast consisting of Walter on guitar, Child Abuse's Tim Dahl on bass, Last Poets percussionist Don Babatunde, and drummer Shaun Kelly. Divergent sounds, influences, races, genders, and literary styles spontaneously recombine into sticky and unanticipated shapes. To politely call it "eclectic" would be a gross understatement. And so it's beyond natural that the group's inaugural gigs should take place in NYC, specifically at Joe's Pub, a restaurant and performance space tucked within the Public Theater. But more on that in a moment.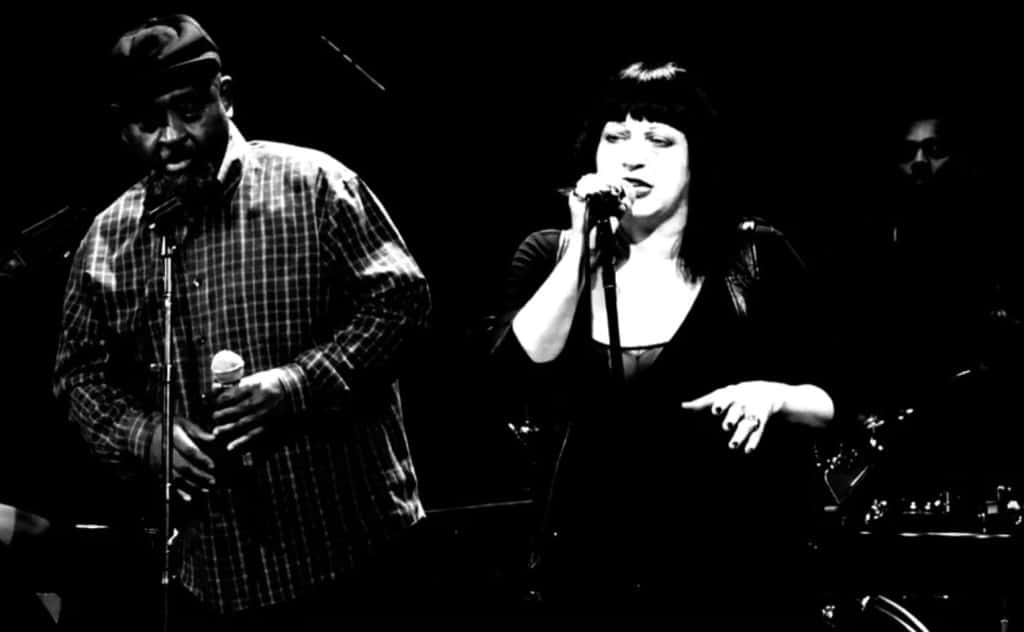 Despite the pedigree of its strategists, No Wave Out is the antithesis of a predictable history lesson. Those expecting greatest hits and easy nostalgia will go home flustered and unfulfilled. In a sense, the meeting of Lunch and Bin Hassan could have only transpired in the present, with a surplus of technology facilitating communication and the erasure of aesthetic boundaries. Additionally, these celebrated dissidents have conspired as a reflex against the precariousness and absurdity of contemporary American life: Open-carry assault rifles glint in shopping mall parking lots, domestic terrorism feels eerily normalized, social media reduces discourse to 140 characters or less, and the cops, quite literally, get away with murder (particularly when their victims happen to be young and of color). And let's not ignore the population's enthusiastic acceptance of a mass surveillance state or that billionaire lech successfully grabbing Washington by the pussy. Are these valid signs that the end is nigh? Or are they simply mundane recurring nightmares, exacerbated and amplified by an increasingly globalized civilization with a swiftly deteriorating attention span? In either instance, it's no longer just a jungle out there; it's a goddamn pressure cooker.
Maybe that explains the apocalyptic supper club atmosphere that pervaded No Wave Out's multi-evening stand at Joe's. Lunch and Bin Hassan radiated anger, wisdom, and cutting wit, jocularly antagonizing and sparring with each other by trading verses that split the difference between battle raps and dramatic recitations. Her rasping rants were a far cry from his sly, spiraling cadences but somehow, they came across as flip sides of the same burnished coin. Introspective mania entwined with political but rarely preachy bluster. She punctuated and echoed his loose, instinctive rhymes with sardonic hoots and rejoinders. A pair of blunt voices from a pair of wildly contrasting margins coalesced to excoriate the world at large, balancing gut-level disgust with genuine compassion but occasionally laughing in your face to lighten the mood. All while the sulfuric stench of roasted Brussels sprouts wafted in from the kitchen.
Donning shades and serenely poised behind a set of congas, the smiling and tireless Babatunde was No Wave Out's heartbeat and sage. His incessant patter exuded an entrancing piquancy that was half Haiti, half Harlem—in this case, a Harlem that emphatically predates the construction of that looming Whole Foods at 125th Street and Malcolm X Boulevard. Kelly intuitively hung back, relying on his hi-hat for subtle, skillful locomotion but exploding into an awesomely controlled, kinetic gallop when the temperature rose. From beneath a curtain of shaggy bangs, Dahl responded accordingly, digging in and dishing up full-fat funk, then unleashing velocious note clusters abraded by scabrous distortion. A scowling Walter played the snotty extrovert to the hilt, plucking chicken-scratch chords but generally losing himself in improvised, psych-metal leads and shoving his instrument under the noses of unsuspecting patrons as they attempted to savor $8 French fries drizzled with malt vinegar mayonnaise.
So what did it mean, this whirlwind of unplanned bedlam, unctuous grooves, scripted readings, and stream-of-consciousness venom? Honestly, it seems futile to ascribe a single purpose to the syncretic and peculiar fusion that is No Wave Out. The fruits of Lunch and Bin Hassan's labor amount to a complex and fractured spectacle that mirrors complex and fractured times. One certainly, though, is that their messy partnership pays tribute to the concept of survival. Because regardless of how much bigotry, sexism, addiction, class warfare, financial strain, and assorted bullshit these hardheads have endured, they faithfully refuse to bend over, spread 'em, and get violated by conformity's seductively greased truncheon. Instead, they're persevering on their own terms and shouting boisterously from the barstool. For these two veteran agitators, fading gracefully into silent complacency has never been an option.