Some Serious Business is excited to present Ranu Mukherjee's responses to our #FiftyQuestions series! Please find her answers below, as well as a note on her current exhibition.
11. What is your current guiding motivation to work and/or express yourself?
Last week I opened Shadowtime, an exhibition titled after a word which I coined in 2016 with the Bureau for Linguistical Reality. The word is defined as the feeling of living in two simultaneous yet distinct time frames, one full of everyday ambitions and challenges, while the other suggesting that life could be vastly different in the not-to-distant future. When the word was coined in 2015 I was thinking about climate change. Shadow time has since begun to feel eerie in relation to what seems a major swing in both national and global politics, especially as a multi-racial person in a divisive historical moment.
My sense of defining and picturing this moment revolves around the ground as a shifting and precarious entity, experienced via the trajectory of ecological and political upheaval, the rise of isolationist politics, re-emergence of white supremacy and recent mass migrations arising from these conditions. My recent work in painting and hybrid film handles figure-ground relationships as both a question central to pictorial art  and its history, and as a subject matter full of urgency. I am thinking about bodies and time, health and resistance, race and abstraction, collective action and love in a precarious historical moment.. I am driven by a need to find ways to be grounded in the body, to make works which trace a non-linear and layered sense of time that is connected  to expansiveness, resistance, beauty and futurity.
Shadow time includes a series of paintings made entirely from the essential elements of line and color. The compositions are made from tracings of news images describing collective action and movement, pictures of lovers, historical etchings describing colonial expansion fictionalized through storytelling  and documentation of various dancers and performers. The line work is made with milk paint and ink, painted over and over again until the color creates a shadowy vibrancy with the ground. Withdrawing certain kinds of detail removes demographic readings from a place of implied certainty, offering instead an image which emerges, partially, as one looks at it- and leaves some responsibility to the viewer, to notice their own path of inquiry, response, and relation to this partial exposure. The source images have an urgency but can also become confined to a particular read in journalistic form.
By painting their contours over and over again I am trying to release these images from the temporality of the news cycle into their futurity, which, only partially predictable, creates a silence around itself. The work reflects a feeling about the limits of visibility and the necessary acts of unmaking dominant narratives while honoring entanglement, resilience, and joy inherent in lives and histories be they human or otherwise.
12. Who or what would you most like to collaborate with?
I would like to collaborate with an octopus on a restorative justice project for the ocean.
As for humans, I would have loved to make a work with Pina Bausch while she was alive. One  that could be staged in many types of spaces, including outdoors.
18. Can you recall your first memory of bliss in self-expression?
I had an incredible experience with painting during my first year of art school. I was making a pretty cheesy still life painting of a plastic doll with green braids standing next to a clock. I didn't have a lot of control of the paint so things were kind of sloppy yet tight at the same time. At one point I put down a stroke and suddenly felt this sense that I had painted a hole in the universe- that I was connecting directly with matter through the act of painting. It was a pivotal moment when I really understood the transformational energy of making a painting- or an image which comes from the body. I didn't really think of this as self expression, but it did hold a kind of wonder and gave me a thrilling vertiginous feeling that I had to follow.
26. Is destruction a positive phenomenon for you?
I love this question and am really compelled to try to answer it, though I am not exactly sure why. I don't generally think destruction is a positive phenomenon, but I do think my work revolves around the sense of a world in motion, constantly changing- and that it is a positive thing to try to ground oneself in that somehow rather than believing that things will stay the same. I think my work reflects a lot of joy, sometimes ecstatic joy- in a situation of epic transformation that is happening at another temporal scale- so as to seem slow to us.
I wonder if true destruction is actually possible. I think that when something appears to have been destroyed it has just become something else- some other type of energy. I also believe very much in the potential of unmaking- my process involves continuous making and unmaking, as well as offering and withdrawing visual information. I think this is related to a desire to shift dominant, fixed or unquestioned narratives to open up more expansive patterns of thought and vision. Is this destruction? Maybe something does have to be destroyed in the process of unmaking.
31. If you could create a new public institution for your field, what would it's mission be?
An incubator for projects that help locate and amplify residual forms of animism and create new ones, study and share different bodily experiences of time  and non-linearity and/or mobilize counter-narratives in real time. A platform for artists (visual,writing,dance, music, performance,film) in dialogue or collaboration with each other and with people from other adjacent fields as a way of making bridges that promote resilience. A place to counter the effects of isolationism and to go as far in the opposite direction as possible.
 About Ranu Mukherjee
MFA Royal College of Art, London
BFA Massachusetts College of Art, Boston
Ranu Mukherjee's work refers to states of excess, drawing links between present day global capitalism and animism still residual in our collective psyche. Occupying fragments as a generative source, she makes and unmakes images, culling content from a variety of diverse sources ranging from 19th century Indian lithographs to the pages of Vogue, India, from ancient mythology to current events. Through layering and recombining, she creates an amalgam of media, subjects, ideas and time frames within the same space. Her hybrid films, works on paper and textiles view the construction of culture through creolization, the nomadic, ecology, speculative fiction, desire and the unknown.
Mukherjee's solo exhibitions include a three channel video installation at the Los Angeles County Museum of Art; Extracted, an iterative three part solo exhibition at the Asian Art Museum, San Francisco; Phantasmagoria at the Table Art Center, Illinois and Telling Fortunes at the San Jose Museum of Art, California. Gallery Wendi Norris has hosted three solo shows with the artist, 2011,2013 and 2017. Her work has been shown in many group exhibitions, including at the Dana Galleries at Rutgers University, San Francisco Arts Commission Gallery, Arizona State University Art Museum, Gallery Espace, New Delhi, She Works Flexible, Houston and Dold Projects, Sankt Georgen, Germany. She has recently been artist in residence at Space118, Mumbai and the De Young Museum, San Francisco. Her work is in the collections of the Asian Art Museum, San Francisco; the Oakland Museum of California, the Kadist Foundation, San Francisco; the San Jose Museum of Art, California and the Robert D. Bielecki Foundation, New York. Mukherjee co-created Orphan Drift, an artist collaboration making combined media works, in London in the 1990's. She has participated in numerous exhibitions and screenings internationally including in London, Oslo, Berlin, Oberhausen, Glasgow, Istanbul, Vancouver, Santiago, Capetown, and the Bay Area.
Links
http://www.gallerywendinorris.com/ranu-mukherjee-shadowtime/
https://vimeo.com/ranumukherjee
http://ww2.kqed.org/arts/2016/07/06/women-to-watch-ranu-mukherjee/
https://www.youtube.com/watch?v=dSYAEPR6fjo
Social Media
instagram
@ranumukherjee
facebook
https://www.facebook.com/ranu.mukherjee
twitter
@IzRanu
email contact
A note from Gallery Wendi Norris:
Gallery Wendi Norris is pleased to present Shadowtime, the third solo exhibition with San Francisco-based multi-media artist Ranu Mukherjee. Shadowtime unveils a series of new yellow, orange, and purple milk paintings on paper and a hybrid film installation, projected on a 107 x 60-inch sculptural glass screen.
Events:
Conversation between Mukherjee and Saisha Grayson, PhD candidate, The Graduate Center-CUNY, and former Assistant Curator at the Elizabeth A. Sackler Center for Feminist Art at the Brooklyn Museum: Thursday, 

June

 

8

, doors open at 

6:00PM

, talk 

6:30-7:30PM
Now not Now, a newly commissioned dance performance by Hope Mohr Dance. Inspired by physical movement, Mukherjee invited Hope Mohr Dance to create and premiere a new movement-based performance for three people, inspired by and based on the Shadowtime exhibition. Thursday, June 29th, 6-8PMPerformance: 6:30-6:45, reception to follow.
The exhibition will be open July 8th.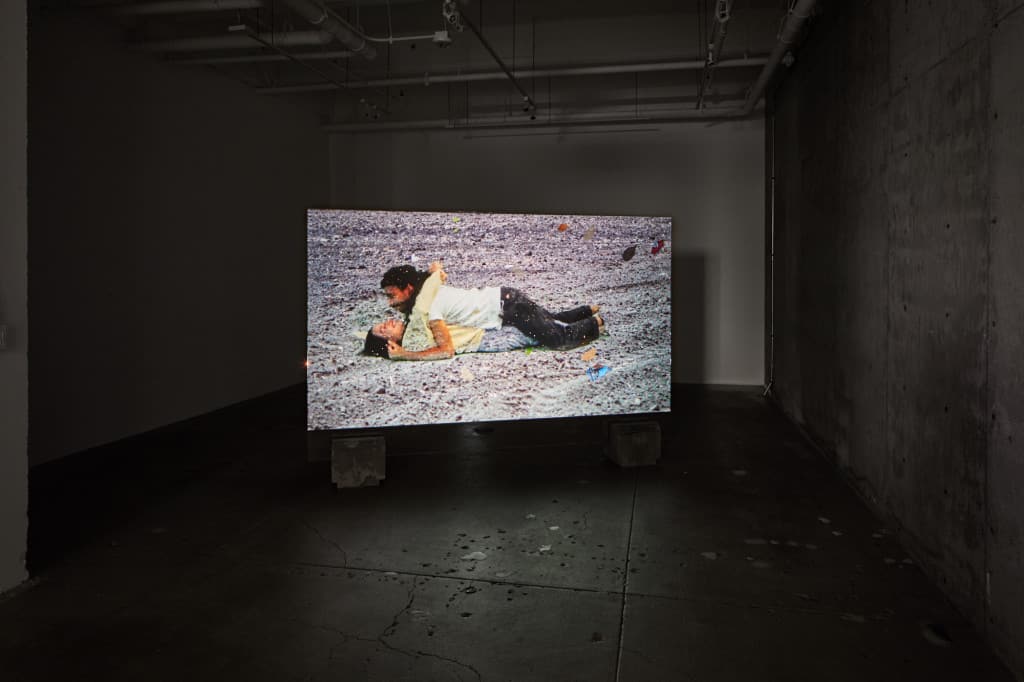 Mixing Dusts (installation view, Gallery Wendi Norris, Photo by JKA Photography) 2017, hybrid film installation, digital video, BD-R projection on glass, edition of 5 + AP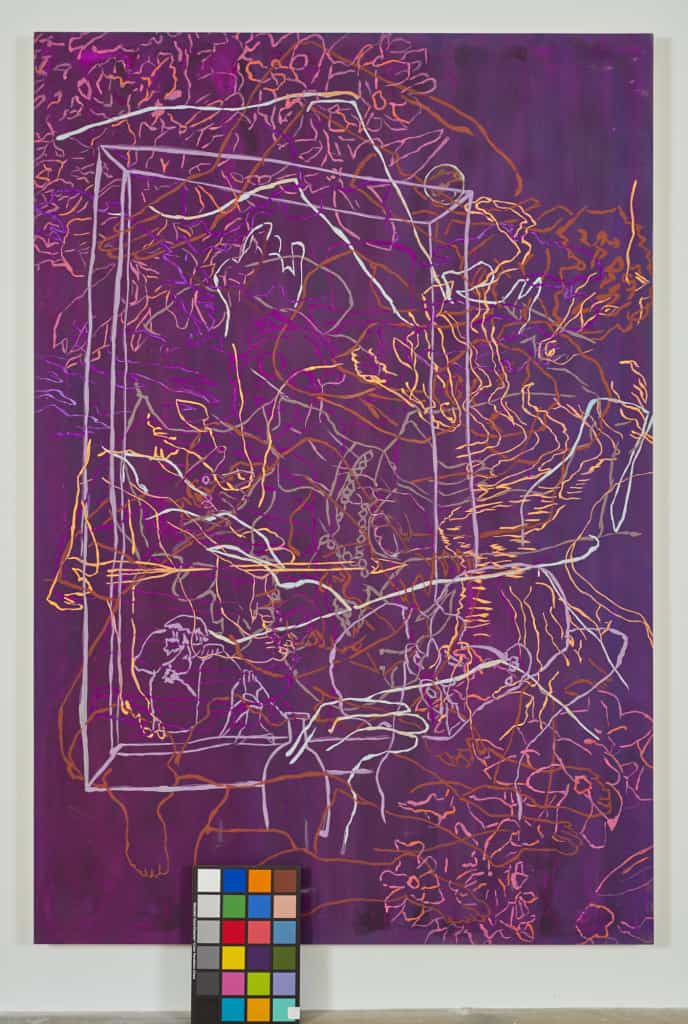 We are Multi-Dimensional Beings 2017, pigment and milk paint on paper on panel 75 x 51 inches (190.5 x 129.5 cm)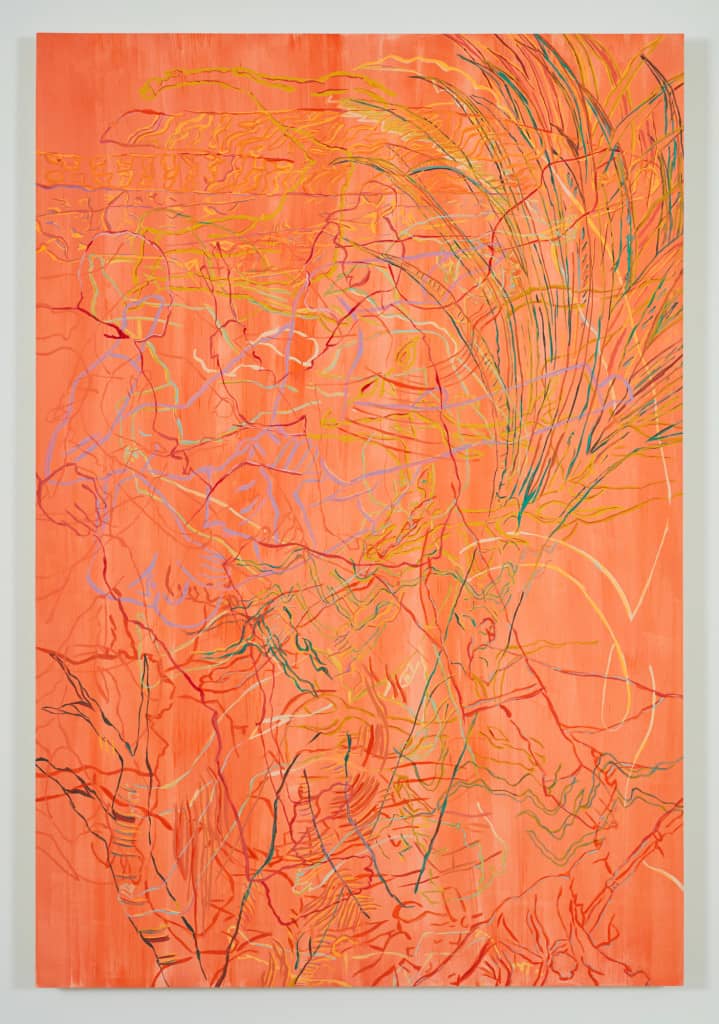 Something About Moving Palms Across Oceans, 2017, pigment and milk paint on paper on panel, 75 x 51 inches (190.5 x 129.5 cm)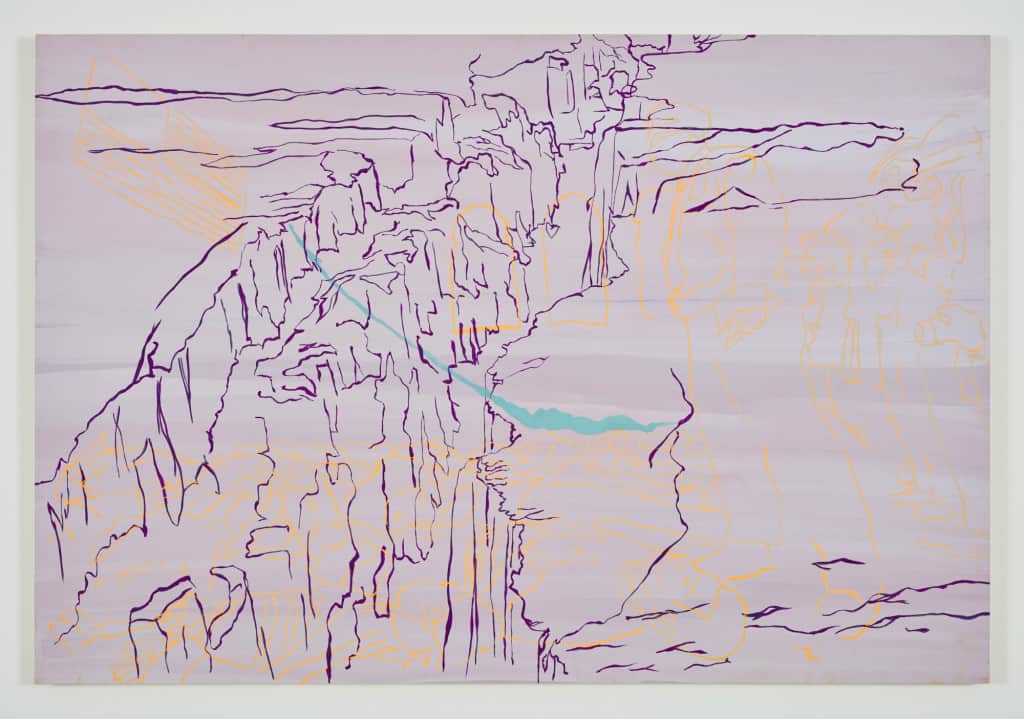 Racks, 2017, pigment and milk paint on paper on panel 75 x 51 inches (190.5 x 129.5 cm)