Kenny Fries received the Creative Capital literature grant for his new book, In the Province of the Gods.  He is the author of Body, Remember:  A Memoir, and The History of My Shoes and the Evolution of Darwin's Theory, which received the Outstanding Book Award from the Gustavus Myers Center for the Study of Bigotry and Human Rights.  He edited Staring Back:  The Disability Experience from the Inside Out, and was commissioned by Houston Grand Opera to write the libretto for The Memory Stone.  His books of poems include In the Gardens of Japan, Desert Walking, and Anesthesia.  He was a Creative Arts Fellow of the Japan-U.S. Friendship Commission and the National Endowment for the Arts, twice a Fulbright Scholar (Japan and Germany) and has received grants from the DAAD (German Academic Exchange), Canada Council for the Arts, Ontario Arts Council and Toronto Arts Council.  He teaches in the MFA in Creative Writing Program at Goddard College.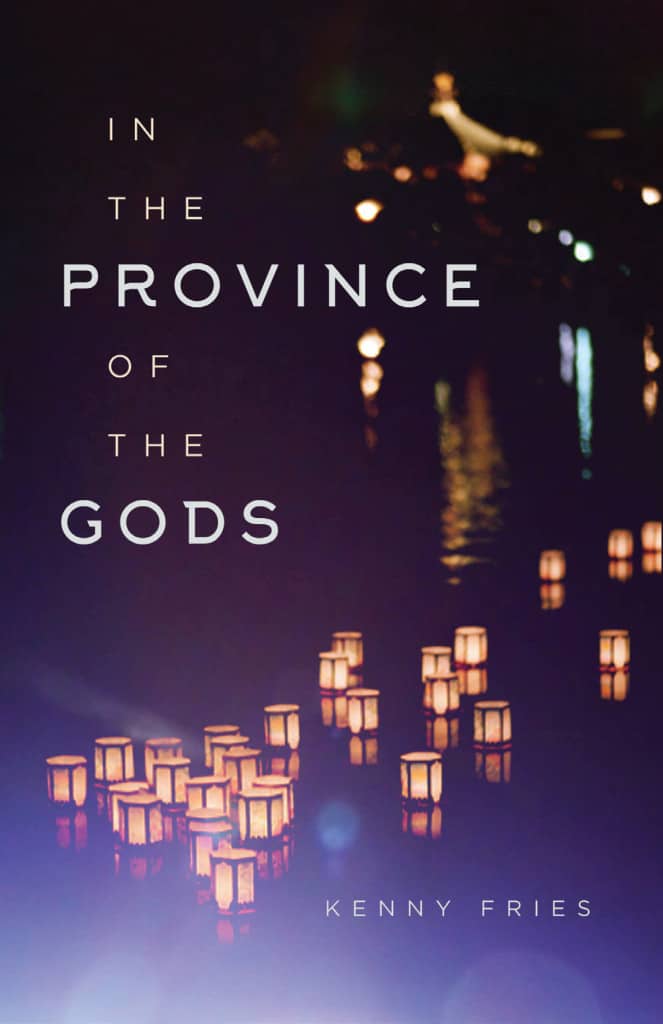 Q:  What is your artistic relationship to loss? Either personal loss, or lost works of art, or other kinds of loss? 
In the Province of the Gods, my new book, is steeped in loss.  Ultimately, I think the book is about impermanence, mortality, and loss.  The loss takes many forms, as the book looks at loss of love, loss of identity, loss of health, and the displacement experienced when adjusting to a new culture that is very different from one's own.  For a while I described the book as "my happy book about death" because, though loss permeates the narrative, it is making one's way through loss that is the book's journey.  And, in Japan, where I lived for a while, and where the book takes place, this is of great importance.  The Japanese way of dealing with impermanence is very different from what we're used to in the West.  It was in Japan that I learned a new way of dealing with the impermanence of our lives, which made Japan the right place to be during what was a difficult time in my life.     
Q:  How deeply do you feel your self-expression is impacted by the field in which you work – its morés, standards, culture, legacies – and how so?
In a way, my writing works against the literary morés, standards, culture, and legacies.  As a disabled writer, who is also gay and Jewish, I often write at the intersection of these identities.  This seems to make it difficult for many in the publishing business to figure out where my work might "fit."  How I wish they'd realize that there is no need for the work I do to "fit."  Though I write from a perspective not often encountered in our literature, what I write about can and does speak to all readers.  For example, when my first memoir, Body, Remember, was published, I was asked by an interviewer why someone who is not disabled, gay, or Jewish should read the book.  My answer was that the book was about the relationship between the body and memory.  We all have bodies.  We all have memory.  So, the book was for all readers.
Similarly, In the Province of the Gods, might, at first, seem a bit exotic.  But, though the details of the story might be that of a specific disabled foreigner in Japan, what the book is ultimately about is universal.  We are all mortal beings.  I've said that if my book were about a nondisabled straight white guy with cancer who went to Japan, the book would have been immediately seen as universal.  But because I happen to be disabled, and gay, and the book deals with a surprising HIV diagnosis, its universality doesn't immediately register to most.  However, once you enter the world of the book, it is clearly a book meant for all readers.
Also, in my work, I don't follow the historical cultural standards of writing about disability.  The disability narrative has historically been one rooted in the medical model of overcoming a disability.  In this model, the disability must be eradicated, it must be cured, or killed.  This is especially rampant in movies such as Million Dollar Baby — not many know the person on whose life the story is based is still alive and well in Kansas City — and more recently in Me Before You.  These narrative tropes were developed by the nondisabled and are written for the nondisabled.  In our culture, there are not many disabled characters whose story doesn't involve disability as providing a foil, so to say, for the nondisabled protagonist to learn about his or her life.  A good example of this is Rain Man.
Q:  How has your years of writing affected or influenced your sense of self?
Looking back, I think my work is a good map of how I developed as both a person, and as a writer.  I think my work has broadened over the decades to encompass larger issues, though I never have written about disability in isolation of the society in which it is a part.  With The History of My Shoes and the Evolution of Darwin's Theory, I provided a new paradigm through which to view disabled lives, and this is something that has deeply affected my sense of self.  Now, with In the Province of the Gods, I've made public something that those I know have known, my HIV status.  Early on, when I was writing the book, this concerned me.  It felt as if, once the book was published I would lose control of how people defined my life.  But, as I continued writing, and now that the book has been published, I'm no longer concerned about this.   When a review of the book appeared recently in A&U Magazine, which calls itself "America's AIDS Magazine," I appreciated that the reviewer said the book isn't your typical AIDS memoir.  Not only because I think he's right, but also because I could embrace it being called an AIDS memoir.  Of course the book is much more than an AIDS memoir.
In 1997, soon after Body, Remember was published, Staring Back:  The Disability Experience from the Inside Out, which I edited, came out.  This was the first multi-genre anthology of disabled writers writing about disability to be published by a mainstream commercial publisher.  Editing this anthology gave to disabled writers and readers a context for their literary lives, at the same time putting the world on notice, as the title says, we were staring back, we were taking the reins of interpretation back where it belongs.  For too long disability has been defined by the nondisabled.  But for the past two decades, writers such as Anne Finger, Stephen Kuusisto, Emily Rapp Black, Susan R. Nussbaum, Sheila Black, Jennifer Bartlett, and others, have been writing work that takes control of a narrative that has historically been very pejorative, and very dangerous.  Our writing, and I'm proud to have my work included in this, has affected and influenced many readers, disabled and nondisabled alike, and made possible other important anthologies such as Beauty is a Verb:  The New Disability Poetry to be viable in an often hostile publishing world.
Q:  If you could create a new public institution for your field, what would its mission be?
As I get older, I'm increasingly concerned with legacy and mentoring.  Historically, because of lack of access to education and professional training, there has been a gap of information transfer between generations of those with disabilities.  Though I've been teaching for over two decades, I don't encounter as many disabled students as I'd like, though teaching the disabled writers I have taught has been among my most rewarding teaching experiences.
What I'd most like to do is to create a disability arts mentoring program (there's an interesting acronym here: DAMP), which can institutionalize the mentoring of younger disabled writers and artists by pioneers such as the writers I mentioned earlier, as well as artists such as Riva Lehrer and dancers such as Claire Cunningham.  Creative Capital, which supported In the Province of the Gods with their literature grant, taught me that professional development is an important part of one's writing or art practice.  I've advised Creative Capital's professional development program in how best to provide what might be specific to disabled writers and artists in their program.  But I think it's time to create an institution that looks out specifically for the needs of disabled writers and artists.  I think a mentorship program can do this, and is much needed to continue and move beyond the work some of us are already doing in advancing the practices and careers of disabled writers and artists.  If there's a funder out there who wants to help get such a program off the ground, I'm ready to spearhead such a project.
Links:
A must read! Kenny Fries in the NY Times
The #FiftyQuestions series was created by Quintan Ana Wikswo for Some Serious Business.
Curious about the #FiftyQuestions the artists had to chose from? Here they are!
INTERVIEW QUESTIONS:
1- What event or factor in your life has been the most pivotal in your decision to become an artist?
2- What artist do you consider most influential to your ongoing development as an artist?
3- What has been the most significant challenge you've faced that you overcame to continue your art practice?
4- Describe your ideal workspace.
5- What one sentence do you hope describes how your art practice will be recorded in history, and why?
6- In thinking of the lulls and gaps or lost places in your practice over the years, who or what has re-energized you?
7- What project of yours do you personally consider your most satisfying, and why – regardless of external support or accolades?
8- What are habitual internal fears and bogeymen that come up for you around making art – excluding universal concerns of time, space, money, in/adequacy, and recognition?
9- Who of all the artists who have ever lived would you most love to share your work with? And why?
10- If you could travel in time, within what era or milieu would you most like to have an artist residency? And why?
11- What is you current guiding motivation to work and/or express yourself?
12- Who or what would you most like to collaborate with?
13- Do you have a relationship with the distant future – in other words, are you making artwork that bears a message or impact for coming generations?
14- What role does your genetic or cultural background play in your practice?
15- What surprises you most about what you are doing right now in your practice? If the nine year old you could see you right now, what do you think s/he would think?
16- What do you worry you will never be able to express?
17- What emotion as an artist makes you most uncomfortable and why
18- Can you recall your first memory of bliss in self-expression?
19- Who has been your greatest mentor, living or dead, real or imaginary?
20- Do you have a relationship with an animal in your life that influences your art process?
21- What unchangeable fact has been most frustrating to you as an artist?
22- How deeply do you feel your self-expression is impacted by the field in which you work – its morés, standards, culture, legacies – and how so?
23- How would you describe your ideal relationship with other artist colleagues?
24- What do you feel are the greatest or most tenacious barriers to creating art over an entire lifetime?
25- Do your dark nights of the soul tend to be constructive or destructive to your self-expression?
26- Is destruction a positive phenomenon for you?
27- What is your artistic relationship to loss? Either personal loss, or lost works of art, or other kinds of loss?
28- When does Joy tend to visit you?
29- Who or what are you speaking to or with in your current work? Who or what would you like to speak with in your art in future?
30- If you have one goal for change in your artistic field, what would it be?
31- If you could amplify a specific sense, which would it be? If you could minimize s specific sense, which would you choose?
32- How has your years in artmaking affected or influenced your sense of self?
33- What do you suspect is your most powerful artistic blessing? Or blessing in general?
34- Have you ever had a physical illness, event, or impediment that has changed how you make or approach artmaking? And how?
35- If you could create a new public institution for your field, what would it's mission be?
36- Who or what do you feel is most invisible to others in your practice?
37- How do you feel most often misunderstood or misperceived, either as an artist or in your work itself?
38- How important is it to you that others connect and understand and appreciate your work?
39- What is your relationship to criticism?
40- What is your relationship to praise?
41- Is there a seasonal rhythm to your practice? How so and why?
42- How would you describe the prevailing norms in your field – are you impacted by them? How or how not?
43- What is your relationship to your audience, real or imaginary?
44- What makes you most likely to shut down or go into dormancy as an artist?
45- Do you have a particular skill or knack of which you are most secretly proud? Something you feel you can do that few others can, no matter how small?
46- Which would you prefer: to be a rogue artistic outsider or to fit within a community of similarly-minded creators?
47- Describe the greatest gift someone has given to you that invigorated your artistic expression?
48- Are you more interested in the universal or the individual? How important is it to you whether you express yourself as a unique person, or rather add your voice to a collective conversation?
49- If you could be anything besides an artist in human form, what would you like to be?
50- What would be the most thrilling  moment or situation in timespace to find your art being enjoyed?