Sunday, November 12 | 10:30 AM | Joe Ferran Gym, Abiquiu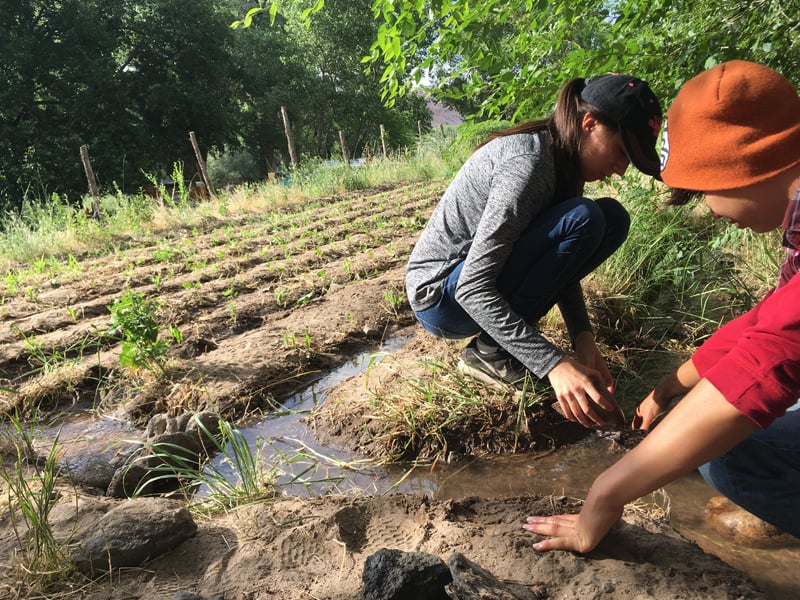 A Benefit Honoring Iren Schio and David Fant & Katherine and Eliud Salazar for
Supporting the Dreams of Northern New Mexico Teens
Some Serious Business is pleased to support Northern Youth Project's annual benefit celebrating the season's bounty and teen achievements. A feast prepared by teens and community members featuring ingredients from the NYP garden and local farms, the Harvest Brunch takes place Sunday, November 12, 2017 at the Joe Ferran Gym in the Pueblo de Abiquiu. This year we are pleased to honor community members Iren Schio and David Fant and Katherine and Eliud Salazar for their immeasurable help in making NYP's programs a success and supporting the dreams of our teens. Doors open at 10:30; Brunch will be served at 11 AM.
The Harvest Brunch menu includes blue corn pancakes, vegetable quiche, roasted rosemary potatoes, apple/pear/goat cheese salad and our signature Prickly Pear Mockmosas. A silent auction of art, antique, outdoor gear, and other gifts and services will also be featured. Suggested Benefit Tickets: $15 adults | $5 kids under 12 (or by donation. For more information or contact Margaret Wadsworth, Executive Director, 575 581 4424.
NYP is a grassroots community organization that works to do a lot with little. Our successes depend on the help we receive from volunteers, family, and friends. The Harvest benefit meal is the culmination of a dynamic and successful year that saw a record number of teen members interacting with mentors and their peers in youth heritage gardening; the creation of the "For the Love of Land" art project; and new partnerships with community organizations that expand youth leadership and educational opportunities.
Located in the heart of Abqiuiu, the Northern Youth Project Garden is a model program that engages youth and community in heritage traditions while introducing them to contemporary agricultural practices. A team-building leadership program, the garden acts as a locus for cooking classes and other activities designed to create an environment where youth and mentors work together to continue culturally significant traditions. The Garden Open House, Seed Exchange, and Teen Salsa contest, was a huge success this year, generating unprecedented participation by community members and youth.
Sustained through continued support of mentor artists and honorees Iren Schio and David Fant, in the "For the Love of Land" project, teens designed and crafted two large sculptures with litter collected from local acequias. Turning trash into treasure, teens unveiled Spider Cat and Phineas Menage at an opening at the Hunter Ford Center in Espanola. Designed to spark a discussion about water, ecology, and the acequia system, the completed environmentally-focused outdoor sculptures are currently installed in front of the Arts building at Northern New Mexico College.
In addition, Northern Youth Project summer internships reached children and youth through both the garden and arts programs. In collaboration with the Del Norte Boys and Girls Club in Abiquiu, mentor artists taught teens about the regional micaceous pottery technique and tradition. An in depth, hands-on pottery program, teens dug and fired clay from Petaca with famed and respected local potters Felipe Ortega and Rikki Vieira. In a partnership with the Espanola Valley Fiber Arts Center, teens helped children with a t-shirt dying workshop. And, together with regional artists Leland Chapin and Ameen Archuleta we completed two new murals.
Northern Youth Project is indebted to the many foundations, organizations, and individuals who have helped us throughout the year to create programming that honors the past and looks to the future. Partners include United Way of Northern New Mexico, Clothing Helping Kids, New Mexico Children's Foundation, Northern Rio Grande National Heritage Area, The Friedman Foundation, Some Serious Business and the Con Alma Health Foundation. Gracias!