PERFORMANCE, BOOK SIGNING, EXHIBITION OF PHOTOGRAPHS
New York: Thursday, June 11–14, 2015, Howl! Happening, NYC 
Los Angeles: Tuesday, June 23, 2015, Tuesdays@MONKSPACE
The performances showcased the prismatic, multidisciplinary depth and breadth of the artist's work and offer an immersive encounter with Wikswo's adventurous work spanning fiction, poetry, performance, visual art, photography, and film. The Hope of Floating was published by Coffee House Press in June 2015.
You will find within these pages a marvelous alchemy of image and text, all of it radiant, sensual, endlessly layered. The Hope of Floating Has Carried Us This Far is at once a seduction and an insurrection: a paean to lovers, explorers, resisters, and those without borders. —Sarah Shun-lien Bynum
"These stunning, solitary and cinematic letters to the self (think of the Quays and Béla Tarr speaking together in dreamtime) bear witness to a world beloved and betrayed, the spent and brutal collisions of irretrievable loss with what might have been possible." —Rikki Ducornet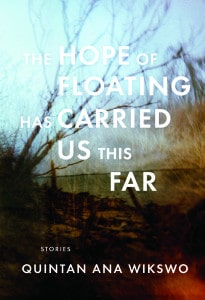 The Hope of Floating Has Carried Us This Far
Stories by Quintan Ana Wikswo | Coffee House Press, June 2015,
ISBN-13: 978-1566894050, $19.95; 277pp.
ABOUT QUINTAN ANA WIKSWO
Hailed as "heady, euphoric, singular, surprising" by Publisher's Weekly, QUINTAN ANA WIKSWO has long been active at the intersection of art and social justice. Her conceptually based interdisciplinary work integrates fiction, poetry, memoir, and essay with her original photographs, performance, and video. These projects surround occluded and obscured sites whose complex histories involve the intersection of gender, disability, queerness, and race, with a special focus on human rights aftermath issues  Her more than 35 projects are published, performed, and exhibited internationally. Her several books include the acclaimed collection of photographs and stories The Hope Of Floating Has Carried Us This Far (Coffee House Press); other work appears in magazines such as Tin House, Guernica, Conjunctions, the Kenyon Review, and Gulf Coast, and as well as in anthologies, artist books, and catalogues. Her projects have received multiple solo museum shows in New York City and Germany, including the Berlin Jewish Museum, and are presented in galleries, museum exhibitions and public collections throughout the United States and Europe. Her solo and collaborative live performance works are actively presented onstage, in museum exhibitions, and site-specific installation featuring live narration, video projection, and original scores by prominent composers.